RTB – flanged control valves
RTBm – screwed control valves
Applications
Self-acting temperature control valves are used in heating and industrial systems. Designed for maintaining constant medium temperature between +20ºC and +120ºC. Compatible with cold water, hot water and steam* up to 180ºC (220°C – special version for controllers with ZRTP valves) and up to 150ºC for controllers with ZRT and ZTM valves) and non-flammable gases up to 80ºC.
Features
maintainsconstant temperature,
high accuracy – maintenance-free,
no external energy required.
Design
All temperature control valves are medium-controlled proportional controllers. The valve disk (3) pressure is relieved by the relief unit (4) to guarantee stable regulation. The device has two components:
– control element (valve type: ZRTP, ZRT, ZTM), including: valve housing (1), seat (2), head (3), relief unit (4), spindle (5), push rod (6);
– control unit (sensor type: TCT), including: coil or tube (7), piston (8), knob (9), impulse line (10).
Valve types
1. Closing – ZRT-Z
2. Opening – ZRT- O
3. Steam – ZRTP
Principle of operation
The temperature controllers use the manometer liquid expansion in the sensor. The medium flows from the valve chamber (A) in the flow direction indicated. The medium surrounds coil or tube (7). Change in manometer liquid volume due to change in medium temperature results in piston (8) and valve spindle (5) with valve head (3) displacement. Required temperature is set with the knob (9). Turn knob (9) to change the chamber (B) volume to adjust temperature range. The valve head (3) is normally open (no power supply). An increase in temperature measured by the sensor closes the valve head (3), whereas a drop in temperature opens the valve head.
Installing control valve
Control valves must be installed on horizontal lines. Flow direction must correspond to the direction of the arrow on the housing. To ensure correct operation, thecontrol valve must be protected with a filter or a strainer. TCT temperature sensor can be installed in a special well.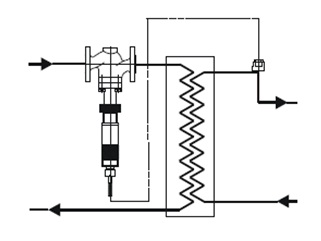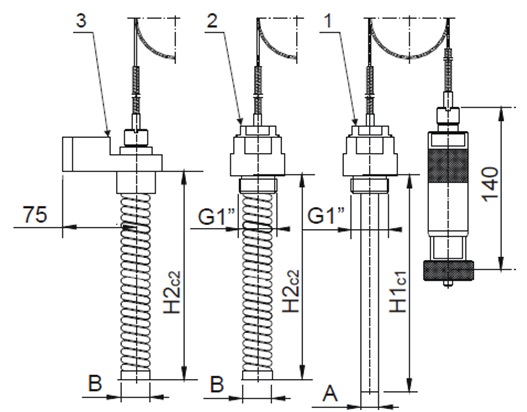 TCT temperature sensor well
Applications
Compatible with direct-acting temperature controllers as a TCT temperature sensor well. The well allows sensor installation without draining the system or the tank. Protects the sensor against corrosive media.