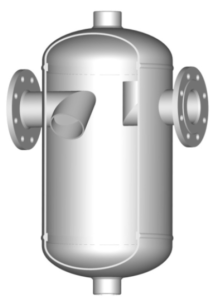 Droplet eliminators
Applications
Designed for separating unwanted fractions from medium. Designed to eliminate water droplets in steam systems and separate water, vapour or oil in compressed air systems.
Features
– eliminate water droplets from steam
– separate water, vapour and oil droplets frm compressed air
– installed on horizontal lines
Design
Designed as low-carbon steel cylindrical tanks with external paint coat finish (hot-galvanized or acid-resistant steel version available). Inlet (2) and outlet (3) ports in the shell (1) for circulation pump. Port inlet (2) diagonal to the bottom tank section, medium discharged via outlet port (3) in the top tank section. Cleaning via drain valve connected to the port (4) in the bottom tank section. Port (5) in the top tank section.
Principle of operation
Medium is discharged via port (2) to the tank. The medium flows downwards in spiral motion inside the tank and the unwanted fractions settle on the tank walls. Separated liquid flows downwards to the bottom section of the droplet eliminator. The medium is discharged via an outlet port (3) in the top tank section. Separated fractions are removed via a drain valve port (4).