Collectors for Low-loss header
KPP type - for SPP Hydraulic Separators
Collectors are used in heating systems consisting of several circuits. They distribute the heating medium to the required number of circuits.
Features
the possibility of connecting any number of heating circuits,
compatible with SPP (KPP) hydraulic separator
it can be manufactured according to individual solutions (KS type),
easy and quick assembly, convenient connection to the installation
Principle of operation:
Collectors are manufactured on the basis of pipes (1) with rectangular cross-section finished with supply (2) and return (3) flanges. The use of flange connections allows serial connection of collectors to connect any number of heating circuits. The connections of heating circuits (4) and (5) are vertical, with a thread at the end. The collectors have an adjustable support structure (6) whose task is to determine the required height of the collector spigots. Collectors are paint-protected against corrosion. In addition, they have thermal insulation to limit heat losses.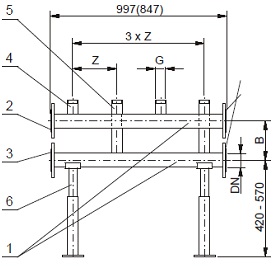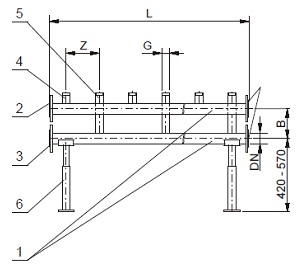 Technical Data
SNominal temperature 110°C, nominal pressure, 6 or 10 bar.
Type

DN

Nominal

flow

[m3/h]
Dimensions
B*
G
Z
L
3**
4
5

KPP
KS

40
3.5

225
1''

250
(200)


1497
(1247)


1997
(1647)


2497
(2047)

50
4
225
1½''
65
9
225
80
13
225
2''
100
20
340
125
30
340
** number of circuits. PN16 connection flanges according to PN-EN 1092-1.
Gallery
© 2019 Termen – Wszelkie prawa zastrzeżone