ZRES – flanged valves
ZRESm – screwed valves
Applications
Control valves with electric actuator are used in heating and industrial systems. The valves are designed as control elements for control systems and remote control systems. Compatible with cold water, hot water and steam* up to 150ºC (200°C – special version ZRES) and non-flammable gases up to 80ºC.
Features
equal percentage characteristics,
leak-tightness,
automatic actuator positioning,
valve actuator open/close time adjustment,
programmable control signal.
Design
Control valves with electric actuator include two units:
– control element (valve), including: valve housing (1), valve seat (2), profiled valve head (3), valve spindle (4);
– control unit (electric actuator) including: bracket (5), connector (6), power cable (7), electric drive (8), manual drive (9).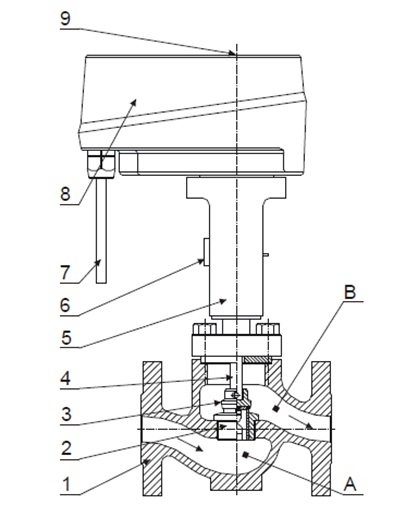 Principle of operation
All control valves feature equal percentage characteristics. The medium flows from the valve chamber (A) in the flow direction indicated. Profiled valve head (3) adjusts medium flow rate based on the required characteristics. The drives are controlled with a 3-point or continuous signal depending on the drive type. The drives can automatically adapt travel to different valve diameters and strokes. Extreme valve head position controller is also a motor overload protection. For continuous signal control, user sets lower (0V) or upper (10V) signal value corresponding to valve closed position. NVF-24-MFT and NVF-24-MFT-E valves feature an emergency setting (return spring) closing or opening the valve at power failure. The manual drive (9) allows manual valve head control at power failure.
Installing valve with actuator
The valves are installed on horizontal or vertical lines. Flow direction must correspond to the direction of the arrow on the housing. To ensure correct valve operation, the system must include a filter or a strainer. Electric actuators should not be installed with the drive downwards.